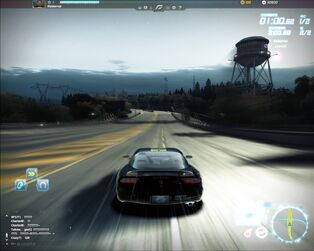 The Asian Beta began in October 14th, 2009 and continued until October 21st, 2009, with server uptime of only 2 hours per day. This session was available only for residents of Taiwan. Back then only Silverton, Downtown Palmont and Rosewood existed. The Asian Beta also featured the Tollbooths from Need for Speed: Most Wanted.
Features
The Asian Beta had limited features unlike what we have today.
Whole interface was in Chinese.
Free Roam & Few Races were available.
There were no Cops in the game.
There was no visual or performance customization.
Driver Level was limited to 10.
There were no Skills.
Races were limited to Silverton.
Downtown Palmont was blocked by the barriers, but still the area was drivable.
Cars
There was only 6 cars available in the Asian Beta. This is a list of them.
Events
Following events were available during the Beta. (Note that this list is incomplete.)
Powerups
There were only 3 powerups available in the Asian Beta:
Ad blocker interference detected!
Wikia is a free-to-use site that makes money from advertising. We have a modified experience for viewers using ad blockers

Wikia is not accessible if you've made further modifications. Remove the custom ad blocker rule(s) and the page will load as expected.