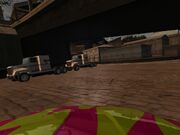 The Big Rig Stop is a small place in North Bay Canning Co. area, located between two streets and unmarked on the map. Two big rigs are parked here. It was used and first mentioned in Spot the Devs 9.
Ad blocker interference detected!
Wikia is a free-to-use site that makes money from advertising. We have a modified experience for viewers using ad blockers

Wikia is not accessible if you've made further modifications. Remove the custom ad blocker rule(s) and the page will load as expected.