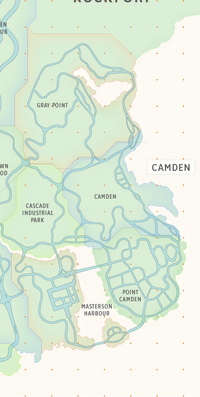 Camden is on the outskirts and is the industrial part of Rockport City. It is known for its fishing towns, factories, docks and rural areas. There are several points of interest including Beacon Point, Thrilltown, Ample Trailer Court, the shipyard, the prison and the scrapyard.
Players can enter Camden by exiting Highway 201 in Downtown Rockport and Highway 99 in Rosewood. One of the most popular unofficial meeting places in Camden is Masterson Naval Shipyard located near Highway 201.
Districts
There are 5 districts in Camden
Events
There are 18 events in Camden including races, a Team Escape, a Drag race and a Pursuit Outrun.
Events
See Also
Ad blocker interference detected!
Wikia is a free-to-use site that makes money from advertising. We have a modified experience for viewers using ad blockers

Wikia is not accessible if you've made further modifications. Remove the custom ad blocker rule(s) and the page will load as expected.