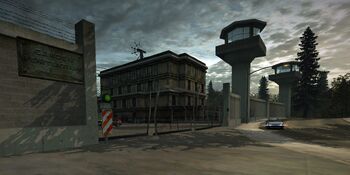 Camden Penitentiary is a prison located in Camden, between Rockport Museum and Ocean Hills. According to a sign, the Penitentiary was established in 1946.
The Penitentiary has a set of corners (used in Ironhorse & Coast or Waterfront and Stadium & Chase), and a rooftop jump shortcut that can be used in Bristol & Diamond but blocked off by blue barriers in Waterfront.
Previously, one of its levels could be used to stand still during a pursuit without getting busted, until security measures were introduced to prevent the exploit.
Since Spot The Devs 9, it has been simply referred to as The Jailhouse.
Ad blocker interference detected!
Wikia is a free-to-use site that makes money from advertising. We have a modified experience for viewers using ad blockers

Wikia is not accessible if you've made further modifications. Remove the custom ad blocker rule(s) and the page will load as expected.