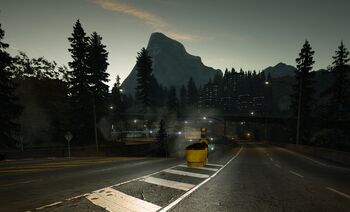 Not to be confused with Campus Interchange (Race).
Campus Interchange is an Interchange on Highway 99, in the Heritage Heights district of Rosewood. It connects Hillcrest, Rosewood College, and Highland Trails areas to the northern section of the highway.
It is best known for its tower blocks, gas station and a car shop from Need for Speed: Most Wanted, and an inaccessible trail that bridges northbound over the entire interchange into the mountains.
Ad blocker interference detected!
Wikia is a free-to-use site that makes money from advertising. We have a modified experience for viewers using ad blockers

Wikia is not accessible if you've made further modifications. Remove the custom ad blocker rule(s) and the page will load as expected.