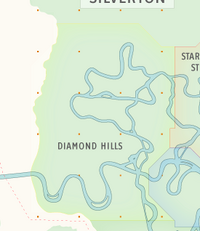 Diamond Hills is a district of Silverton. It is known for its residential area located on hilltops beside a large lake and mountain range. Many roads in the area have large elevation changes including a snake shaped street that leads into the south of the Starlight Strip district.
This district is where Highway 142 ends (from the west) at a junction that leads east to the Neon Mile, and south through a construction area into the Canmor Downs District.
The Savannah Street and Blackwell Bridge race events start here while Paradise Hotel and Silverton Way pass through this area.
Trivia
On the shrine you can see a green diamond almost identical to the Gem icon in Treasure Hunt Mode.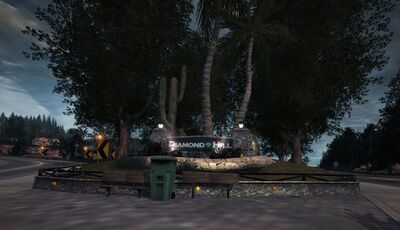 Ad blocker interference detected!
Wikia is a free-to-use site that makes money from advertising. We have a modified experience for viewers using ad blockers

Wikia is not accessible if you've made further modifications. Remove the custom ad blocker rule(s) and the page will load as expected.