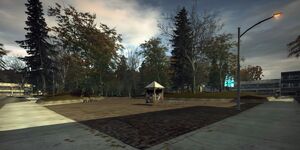 Diamond Park is one of the parks located in Rosewood. It is small, features a newsagent stand and a wall of trees. The shape of the paved roads in and around it resembles the shape of a diamond, hence the name of the park. Behind the wall of vegetation, there is a Flea Market across the road, which was used in Need for Speed: Most Wanted as the first safehouse in the game.
Diamond & Union starts right next to this park, hence its title. However, Heritage & Diamond sprint ends on one of the neighboring streets, not adjacent to the park.
Trivia
One of the buildings on the edge of the park bears the title "nfsmw". The same building was also present in Most Wanted and is shown on the right.
Ad blocker interference detected!
Wikia is a free-to-use site that makes money from advertising. We have a modified experience for viewers using ad blockers

Wikia is not accessible if you've made further modifications. Remove the custom ad blocker rule(s) and the page will load as expected.