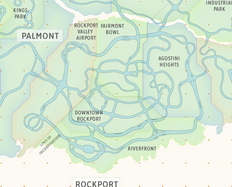 Downtown Rockport is the city Center of Rockport City and is based on New York City. It is home to several landmarks including Riverfront Stadium, Century Square, Rockport Airport, Highway 201, the tunnel system, Little Italy, Fairmont Bowl and the Rockport Turnpike.
Events
There are eight race events, one Drag race, two Team Escape events and one Pursuit Outrun taking place in Downtown Rockport.
See Also
Ad blocker interference detected!
Wikia is a free-to-use site that makes money from advertising. We have a modified experience for viewers using ad blockers

Wikia is not accessible if you've made further modifications. Remove the custom ad blocker rule(s) and the page will load as expected.