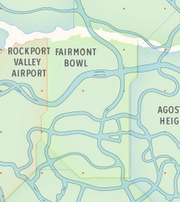 Not to be confused with Fairmont Bowl (Landmark).
Fairmont Bowl is a district in Downtown Rockport. It is best known for a nearby landmark of the same name that is actually located in the Rockport Valley Airport district. It also features Century Square, which is based on Times Square and is one of the most popular landmarks in the game. Rockport Square can be found here, just south of Century Square.
Highway 201 passes through here and Rosewood can be accessed from here.
Events
No events can be found inside the boundaries of this district, but Financial District, Little Italy and Rockport Resistance can be found just outside. Home for the Holidays was available here in Winter 2010.
Ad blocker interference detected!
Wikia is a free-to-use site that makes money from advertising. We have a modified experience for viewers using ad blockers

Wikia is not accessible if you've made further modifications. Remove the custom ad blocker rule(s) and the page will load as expected.