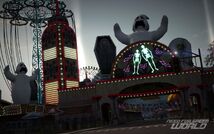 During
Halloween
, the game is completely re-decorated with pumpkins, ghosts and other Halloween themed decorations. They are usually in-game during the last weeks of October. The decorations did not appear in 2013 during the game's transition from
Quicklime Games
to
Easy Studios
.
During Halloween, a special pack of Halloween themed vinyls are released as a top-up gift. A Halloween-themed Sprint track named Ghostwood appeared both in 2010 and 2012.
In 2012 the Halloween-themed
McLaren MP4-12C
"Braaaiiins" Edition was released. The car featured a unique spoiler with the word "BOO" on it and a special sound effect which players could activate by pushing "K" on their keyboard. This too did not appear in 2013.