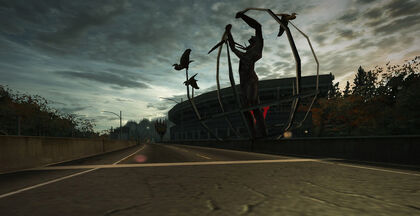 Highlander Stadium is a stadium located on the side of Highway 99, opposite to Hickley Field. It has no inside textures and probably will not become a Meeting Place in the future because of how close it is to Hickley Field.
Confusion is common between Highlander Stadium and Hickley Field, a baseball stadium in Rosewood, and also a Meeting Place. The stadiums can be found via Highway 99, near the tunnel connecting to Infinity Park in Silverton, near Rosewood College. Both Stadiums are home to "The Wombats".
Ad blocker interference detected!
Wikia is a free-to-use site that makes money from advertising. We have a modified experience for viewers using ad blockers

Wikia is not accessible if you've made further modifications. Remove the custom ad blocker rule(s) and the page will load as expected.