Home for the Holidays was a limited edition Sprint event available during the winter holiday season in 2010 and returned in 2012 on December 12th. It is the second longest sprint so far, as it was 15.16 km long. This special track races through both Rockport and Palmont and features a Christmas carol as special background music.
Starting in Century Square it heads west into Fairmont Bowl and out onto Highway 201. It then leaves the highway going into Lyons and becomes the first sprint to ever head west through The Burrows into Kings Park. After it travels along north downtown it takes a left into Billings and right onto Mason Street, keeping straight all the way into Fortuna. On arrival it immediately takes a left out to the coast before going back in to Fortuna through the shopping area. After a detour around the mansion, it heads into the estates where it eventually finishes not far from North Bellezza.
Video
Made by YouTube user SergeantCT920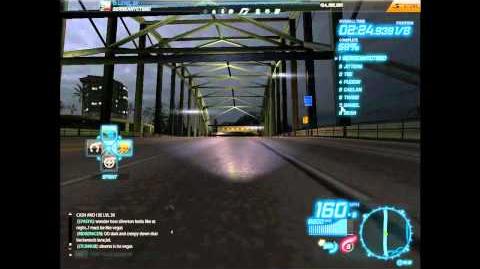 Ad blocker interference detected!
Wikia is a free-to-use site that makes money from advertising. We have a modified experience for viewers using ad blockers

Wikia is not accessible if you've made further modifications. Remove the custom ad blocker rule(s) and the page will load as expected.