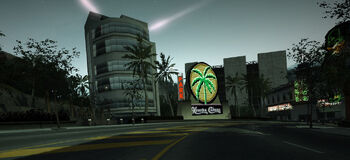 Konopa Cabana is a Caribbean themed hotel located on the Starlight Strip in Silverton. It is well known for its famous searchlights, that in Need for Speed: Carbon, could be seen from as far as San Juan. It can be found on a bend, just north of the main junction, and has a big neon sign with the logo at the entrance.
The entrance road in front of the hotel building can be found on the map, even though it is not accessible anymore. It used to be a spawning point in earlier versions of the game, but was removed due to unknown reasons.
Ad blocker interference detected!
Wikia is a free-to-use site that makes money from advertising. We have a modified experience for viewers using ad blockers

Wikia is not accessible if you've made further modifications. Remove the custom ad blocker rule(s) and the page will load as expected.