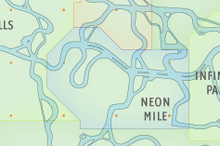 The Neon Mile is a district/attraction of Silverton, based on the Las Vegas Strip. There are eight major themed Hotels/Casinos, most are inspired by the real Vegas Strip attractions, but some have themes that are completely original. The Neon Mile's road is called Olympic Boulevard, and the mile spills into the District of Infinity Park, where three of the eight major attractions are found. Lucky Towers and All In start here.
Landmarks
There are eight Hotel/Casinos (and one
unfinished one
) on the Neon Mile.
Ad blocker interference detected!
Wikia is a free-to-use site that makes money from advertising. We have a modified experience for viewers using ad blockers

Wikia is not accessible if you've made further modifications. Remove the custom ad blocker rule(s) and the page will load as expected.