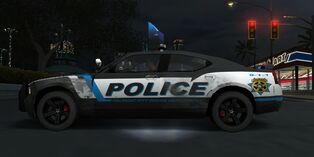 The Police Force have been featured heavily in the Need for Speed franchise since The Need for Speed, and have heavily defined the series over the years.
In order to challenge the Police in Need For Speed: World, a player can take part in a Pursuit Outrun or Team Escape event. Pursuits used to be triggered only by ramming a patrolling cop car in Free Roam, but on November 16th, 2011 patrol cars were taken out of Free Roam and four Pursuit Outrun events replaced them in World.
This game uses the Palmont City Police Department (PPD) and the Rockport City Police Department (RPD). There are eight different cars used by the police over five different heat levels.
Lvl.
State
Vehicle
1
Local
2
County

Dodge Charger SRT8 Super Bee Undercover Cruiser
Rhino SUV

3
State

Police State Muscle Cruiser
Rhino SUV

4
State Tactical Forces

Police State Undercover Cruiser
Rhino SUV

5
Federal
Team Escape Police Vehicles
Gallery
Cop Edition 
Main article: Cars/Cop Editions
Trivia
The State and State Tactical Forces cars were first featured in Need for Speed: Undercover.