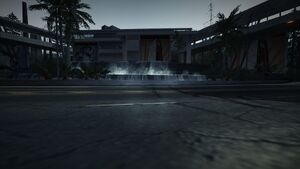 Rockport Museum
is located in western
Camden
, on
Chase Road
, and near
Bayshore Boulevard
and the
Penitentiary
. Its architecture specifically in Need for Speed World (in NFS Most Wanted it had a radically different design) resembles one of the
Palmont University
buildings from
Fortuna
. The glass pyramid on the other side of the street alludes to the famous real-life museum, Louvre, from Paris.
Trivia
Probably due to a human error, the flags representing Rockport Museum that are located in its area can also be seen in a part of Old Quarter, even though it does not make any sense as these are generic Palmont City flags seen throughout the Old Quarter (District). The building shown on these flags represent the tallest structure at the Old Quarter Museum, where you meet Darius after defeating Angie, Kenji, and Wolf (in no particular order) in Need for Speed Carbon.
Ad blocker interference detected!
Wikia is a free-to-use site that makes money from advertising. We have a modified experience for viewers using ad blockers

Wikia is not accessible if you've made further modifications. Remove the custom ad blocker rule(s) and the page will load as expected.