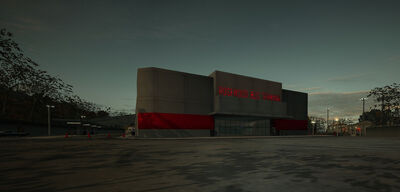 Rosewood Bus Station
is a bus terminal in
Rosewood
. Players can get inside the station by driving through its glass windows at each side of the building.
It is best known for its second floor, where during the first few months after the game was released, players could drive through the windows onto a long concrete shelter or a row of buses underneath the shelter. It was the most popular hangout for players at the time.
Due to the AI, Police had trouble busting players on the second floor, shelter, or buses in pursuits. Using the shelter, players could easily beat their Pursuit Time record. However, the spot wasn't perfect - cops would sometimes arrest the player or they would lose sight of him, and the pursuit would end. The floor between the shelter and buses was always blocked with pillars, but some players managed to access it through a glitch which was removed in Patch 5.00.
Said glitch also worked in Pursuit, and prevented the player from getting busted, but the pursuit would end sooner than when parked on the shelter. After realizing that players abused this spot, the developers added poles blocking the entrance on 27th July 2010. These poles did not work properly though - players who used the glitch to go past couldn't get busted because there was no way that cops could get there.
However, players can still reach the top of a shelter using a bug. When one of the pillars is hit with enough speed (at least 200 km/h), the car may appear on the top.
Ad blocker interference detected!
Wikia is a free-to-use site that makes money from advertising. We have a modified experience for viewers using ad blockers

Wikia is not accessible if you've made further modifications. Remove the custom ad blocker rule(s) and the page will load as expected.