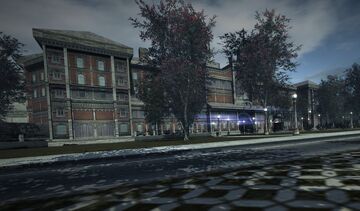 Not to be confused with Rosewood College (Race)
Rosewood College is a college located in central Rosewood just northeast of the town of Rosewood. The look, architecture and atmosphere are based on Harvard University. It has several buildings all inside of a circular road (similar to a large roundabout), along with a small park, a car park, some tennis courts and an underground car park. Players can drive through some of the college buildings themselves.
There is also a College Hospital, Highlander Stadium and some dorms nearby. The college along with the college hospital make up the district of Rosewood College Campus.
This is one of two colleges in World, the other one being Palmont University which is located in Fortuna in the west of Palmont City.
Ad blocker interference detected!
Wikia is a free-to-use site that makes money from advertising. We have a modified experience for viewers using ad blockers

Wikia is not accessible if you've made further modifications. Remove the custom ad blocker rule(s) and the page will load as expected.