Not to be confused with Rosewood College (Also known as Rosewood Park)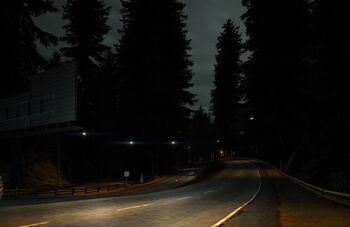 Rosewood Park
is a woodland area in the
Heritage Heights
district of
Rosewood
. Just like the district it has a name that causes much confusion. This woodland area goes by this name according to tracks from Need for Speed: Most Wanted such as
Rosewood Park Loop
, which is a circuit race that does a loop around the park and is also available in World.
The other location that is known by this name is the small park area in the middle of Rosewood College. This area got its name from the Spot The Devs community event in 2012. The developers used many location names in this event that were not the actual names so this was probably the case.
The park can be found on Highway 99 between the two sections of Ironwood Estates along a crest in the highway which inspired the name of the nearby town of Hillcrest. This crest has a link to Silverton through a tunnel that goes through The Mountain.
Ad blocker interference detected!
Wikia is a free-to-use site that makes money from advertising. We have a modified experience for viewers using ad blockers

Wikia is not accessible if you've made further modifications. Remove the custom ad blocker rule(s) and the page will load as expected.