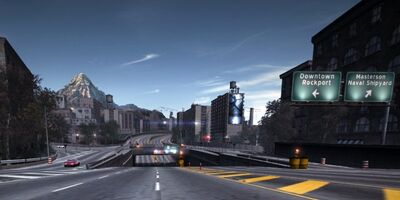 Not to be confused with Seaside Interchange (Race).
Seaside Interchange is an interchange on the east side of Highway 201 in Downtown Rockport. It connects the highway to Agostini Heights and Camden's Masterson Harbour.
A race with the same name begins here.
Ad blocker interference detected!
Wikia is a free-to-use site that makes money from advertising. We have a modified experience for viewers using ad blockers

Wikia is not accessible if you've made further modifications. Remove the custom ad blocker rule(s) and the page will load as expected.