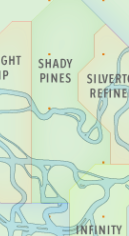 Shady Pine is a small district in Silverton which has two race events, Paradise Hotel and Spade Street. It also features in the Eagle Drive race event and the All In Team Escape. The Palmont City Monorail System ends in the South Pacific Hotel lot at the border of Infinity Park.
Part of the South Pacific is here, and the border also cuts into the Starlight Strip managing to claim Brimstone, Studio MO and even one of the Silverton Signs as its own landmarks. There are also two unnamed casinos across the street from South Pacific.
Ad blocker interference detected!
Wikia is a free-to-use site that makes money from advertising. We have a modified experience for viewers using ad blockers

Wikia is not accessible if you've made further modifications. Remove the custom ad blocker rule(s) and the page will load as expected.