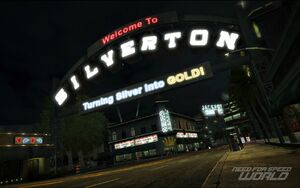 Silverton
is the northern borough of
Palmont City
and is based on the city of Las Vegas, Nevada, USA. It is best known for its casinos, hotels and neon signs but also the luxury homes that can be found mostly in
Diamond Hills
. Silverton can be reached via
Highway 142
or
Highway 99
and is connected to
Downtown Palmont
by
Francis Tunnel
and
Blackwell Bridge
. There are a lot of sharp turns and shortcuts in this region.
Districts
There are seven districts in Silverton:
Landmarks
There are many landmarks in Silverton that help make Silverton the great attraction that it is.
Events
Slideshow
Trivia
There is a hotel/casino on Las Vegas Strip called Silverton. This may have helped to inspire the name of this borough. It should be noted that Silverton is based on Las Vegas which is located in Nevada whose nickname is "The Silver State".
Silverton is originally from Need for Speed: Carbon. It's where players face the game's main antagonist, Darius and where the final part of the game takes place. It was controlled by Darius' "Stacked Deck" crew, before it was defeated by the player.
See Also
Ad blocker interference detected!
Wikia is a free-to-use site that makes money from advertising. We have a modified experience for viewers using ad blockers

Wikia is not accessible if you've made further modifications. Remove the custom ad blocker rule(s) and the page will load as expected.