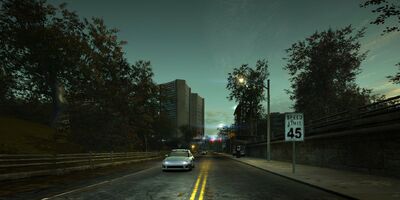 Stadium Boulevard in a major public access road in the Highlander Stadium district of Rosewood. Stadium Boulevard goes from the Campus Interchange on Highway 99, through Hillcrest, and to the round-about in the district of Heritage Heights.
Starting from the Campus Interchange, intersections with roads are as follows: Union Row, Hillcrest Drive (approximate name), and Campus Way. The main entrance of Hickley Field is on Stadium Boulevard.
Trivia
Throughout the Need for Speed series, many cities have been released with streets named Stadium. Other than Most Wanted and World, a road in Bayview was called Stadium Drive because of Cooper Field. A road in Tri-Cities was called Stadium Street because of the Progressive Stadium.
Ad blocker interference detected!
Wikia is a free-to-use site that makes money from advertising. We have a modified experience for viewers using ad blockers

Wikia is not accessible if you've made further modifications. Remove the custom ad blocker rule(s) and the page will load as expected.