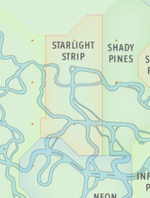 Not to be confused with Starlight Street (Race).
Starlight Strip is a casino district/attraction in Silverton just north of the Neon Mile. It is inspired by Las Vegas's Old Town Fremont Street area which is known for its neon lights, clubs, small hotels, theatres and casinos.
The strip itself is confined by the two Silverton Signs. It has several other landmarks and finishes slightly over the border of the neighbouring Shady Pine district. The district of Starlight Strip also has landmarks located outside of the strip.
Landmarks
Events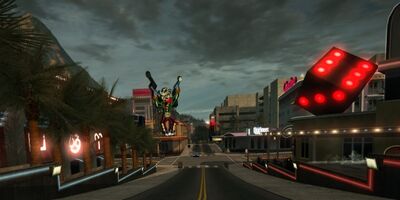 Two race events begin here;
One Pursuit Outrun event begins here;
The All In Team Escape event goes through most of this district.
Ad blocker interference detected!
Wikia is a free-to-use site that makes money from advertising. We have a modified experience for viewers using ad blockers

Wikia is not accessible if you've made further modifications. Remove the custom ad blocker rule(s) and the page will load as expected.