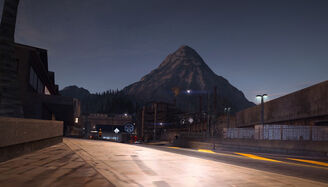 "The Mountain" is a mountain with no name that overlooks the whole region. It has the tallest peak in the game and can be seen from almost anywhere in the map due to superimposed textures that make it look almost the same from any angle. It is located northeast of Silverton and northwest of Rosewood.
There is no way to access the peak, but there is a tunnel passing through the mountain that connects Silverton to Rosewood.
In Need for Speed: Most Wanted, this mountain looked considerably different. What is peculiar is that this and most of the other mountains in-game have night-time textures that almost make them shine in the dark, whilst in Need for Speed: Carbon, all mountains are just pitch black silhouettes.