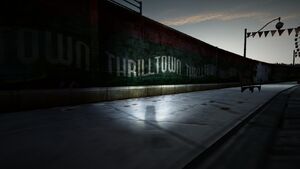 Thrilltown
is an amusement park located in
Point Camden
in
Camden
. The iconic Ferris Wheel of this amusement park can be seen even on the cover art of NFS World, even though the respective box art doesn't depict an accurate perspective of the two cities in the game.
This is one of the sites of the New Year's fireworks displays. In autumns, it is decorated for Oktoberfest, and was used in the Welcome to Oktoberfest event in 2010. It is later decorated for Halloween with ghosts coming out of the ground (special effect).
Ad blocker interference detected!
Wikia is a free-to-use site that makes money from advertising. We have a modified experience for viewers using ad blockers

Wikia is not accessible if you've made further modifications. Remove the custom ad blocker rule(s) and the page will load as expected.