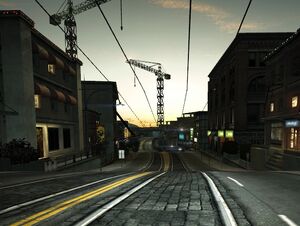 The
Tram Lines
are two separate unused tram lines in
Palmont
. All that currently remains of these lines are some of the tracks and overhead cables as well as an underground station on one of the lines. The two lines are currently not connected; they run parallel to each other on opposite sides of the
Steyne Aqueduct
.
The Downtown Palmont line goes from near Historic Chinatown to Stonewall Tunnel near the Billings District. A section of the line runs near raised sidewalks, which suggests that there may have been a station there in the past. There is a race nearby called Chinatown Tram, inspired by this line.
The Kempton line goes from the west end of the Steyne Aqueduct to the junction north-east of the Memorial Stadium. Just outside the stadium there is an underground section in the middle of the road with a platform on each side. AI traffic cars drive through this station as they have been programmed to treat tram lanes like normal road lanes. On close inspection, shoes can be found hanging from the cables in two different spots on this line.
Ad blocker interference detected!
Wikia is a free-to-use site that makes money from advertising. We have a modified experience for viewers using ad blockers

Wikia is not accessible if you've made further modifications. Remove the custom ad blocker rule(s) and the page will load as expected.