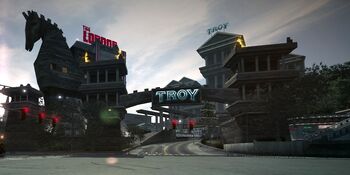 Troy is a large themed hotel/casino on the Neon Mile, in Silverton based off of Caesar's Palace hotel in Las Vegas, Nevada.
It is best known for its Trojan themed fortification and statues, as well as – along with The London – having its own drive-in entrance. This entrance also has a car park that players can cut through in races, which is a very useful shortcut.
It is located on the west end of the mile, and on the south side of the boulevard beside The London, which is also well fortified. It has been featured in several Spot The Devs events.
See Also
Ad blocker interference detected!
Wikia is a free-to-use site that makes money from advertising. We have a modified experience for viewers using ad blockers

Wikia is not accessible if you've made further modifications. Remove the custom ad blocker rule(s) and the page will load as expected.