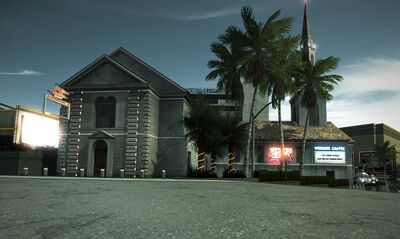 The Wedding Chapel is a church in the Starlight Strip district of Silverton. Just like the many wedding chapels in Las Vegas, its main purpose is to hold themed weddings, which indicates that Silverton's laws on marriage could be the same as those of Las Vegas. The chapel can be found beside the EAX Theater, between the strip and Neon Mile.
Ad blocker interference detected!
Wikia is a free-to-use site that makes money from advertising. We have a modified experience for viewers using ad blockers

Wikia is not accessible if you've made further modifications. Remove the custom ad blocker rule(s) and the page will load as expected.